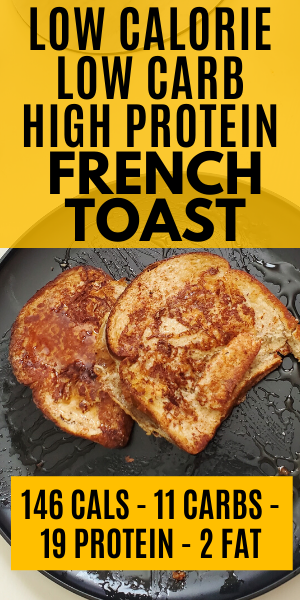 When it comes to losing weight, breakfast has always been a struggle for me.
I am NOT a morning person – and I always crave something sweet and carby.
My two all-time favorites?
Donuts & French Toast!
My love for these has forced me to get creative and come up with low-calorie, high protein alternatives.
I already shared my low-calorie high protein donut alternative.
Side note, I also shared my very favorite smoothie recipe also.
& Now finally, this morning I thought of a way to make low-calorie, low-carb, high protein cinnamon French Toast.
& I couldn't be more excited because it tastes no different than the regular French Toast I make!!
I hate recipe posts that ramble, so I'll wrap it up and get to what you came here for.
PLEASE NOTE: The recipe is for 6 slices – to share or meal prep.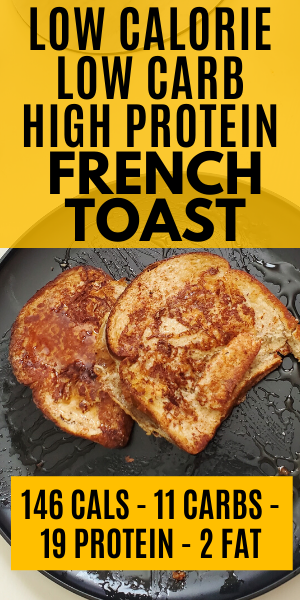 LOW CALORIE, HIGH PROTEIN FRENCH TOAST
Low Calorie, High Protein, Low Carb French Toast
Ingredients
6

slices

Healthy Life 35 Calorie Honey Wheat Bread

2/3

cup

Liquid Egg Whites

1/5

cup

Unsweetened Almond Milk

1

scoop

Isopure zero carb unflavored protein

ou can use different protein powder, but I suggest unflavored or vanilla. Here is the one I use: https://amzn.to/2RwMyFp

1/4

cup

Mrs. Butterworths Sugar Free Syrup

1

tsp

Cinnamon

to taste
Instructions
Mix together almond milk, egg white, and protein powder until smooth.

Dip each bread slice in egg mixture, turning to coat evenly on both sides

Spinkle Cinnamon on bread to taste

Cook bread slices on lightly greased nonstick griddle or skillet on medium heat until browned on both sides.

Drizzle with syrup to taste.